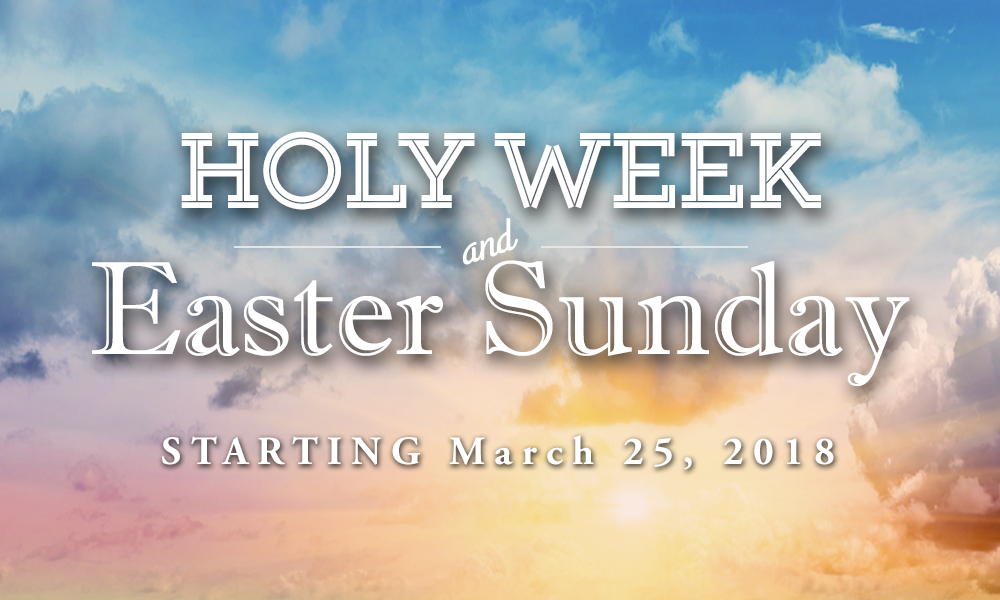 Christ is Risen!
Here are all of the times and locations for Holy Week and Easter Worship Services. We look forward to celebrating together the amazing miracle of the risen Christ. Jesus changed everything. Give your family and friends a great gift and bring them to one or as many of these as you can. Christ is Risen — He is risen indeed! Hallelujah!
---
Palm Sunday – MArch 25th
Palm Sunday – a celebration of the day Jesus rode a donkey into the city of Jerusalem. As Jesus entered the city, the people greeted Him by waving palm branches and proclaiming Him as Savior. The people weren't aware that Jesus was going to be crucified, or that they would be the ones shouting for His death.
Laguna Woods
7:45 AM
9:00 AM
11:00 AM
"Christ in the Passover"
Seder Meal at 5:00 PM
Reservations Required – $10 per person
---
Maundy Thursday – March 29 – Holy Communion at all services
Jesus ate the Passover meal with His disciples, which is still celebrated in Christian churches as Holy Communion. Jesus washed His disciples' feet to demonstrate to them to serve others in humility and sacrificial love. After the meal, Jesus went to pray in the Garden of Gethsemane, where He was then betrayed by Judas.
Laguna Woods
10:30 AM
7:00 PM
---
Good Friday – March 30
In the early morning hours of Good Friday, Jesus was arrested. This is also when Judas betrayed Jesus by a kiss, the sign he arranged with those who bribed him to let them know which man was Jesus. Jesus stood trial where He was brutally whipped, beaten, spat upon and a crown of thorns was forced onto His head. He was made to carry His own cross up the hill where He was nailed to it. Late in the day, Jesus died. He was removed from the cross, wrapped in cloths and buried in a nearby tomb.
Laguna Woods
10:30 AM
7:00 PM
---
Holy Saturday – March 31
During the day on Holy Saturday, Jesus lay in His tomb and His followers mourned His death. A guard stood watch to make sure no one tried to steal the body. Early Sunday morning, it was discovered that Jesus was no longer in the tomb and had risen from the dead, which marks Easter Sunday and the end of Holy Week. He is risen! He is risen indeed! Because He lives, we shall live also.
---
Easter Sunday – April 1
Easter is the day that Jesus rose from the tomb and defeated death and sin for all of us. This is the day that changed everything and since that day we celebrate the sabbath on Sunday. Every Sunday is a celebration of our risen Lord. Come and bring your whole family, neighbors and friends and join us as we worship and sing praises to our risen Lord Jesus Christ!
Aliso Beach Park
Laguna Beach
6:30 am
Outdoor Sunrise Service
Aliso Viejo
9:45 AM
Brunch & Bounce House
following service.
Laguna Woods
7:45 AM
9:00 AM
11:00 AM
Easter Brunch
8:00 AM – 10:00 AM